Dunlap Clients are Discerning
Most of our clients own multiple homes. Most have been through the home building or remodeling process before.  They are top-tier, wealthy homeowners who understand the high value that quality design, materials, and construction provide them.
Our clients know that selecting the right company to design and build or remodel their home is generally the key difference between a pleasant or unpleasant and sometimes unnecessarily expensive experience.  They are willing to pay for quality, service, and dependability. But they also want to pay a fair price, not an inflated price because of the community they live in. They appreciate good value just as much as anyone. They know that when it comes to home design and construction, the best value does not usually come from paying the highest price. But they also know the best value rarely ever comes from paying the lowest price.
Our clients expect and require quality work and quality service. They don't have time to deal with hassles or the companies that create them.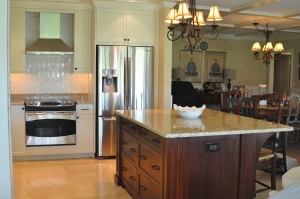 Many of our clients have used the older design-bid-build approach to custom home building or home remodeling. Some have experienced its many drawbacks firsthand. Typically these include greater cost, more steps, less cost certainty and control, more parties involved, and sometimes more finger-pointing.
They appreciate the many benefits our integrated turnkey design build process offers such as higher value, greater simplicity, and more accountability.  They especially like the fact that the Dunlap Design Build process is "client-centric."
Serving Year-Round and Seasonal Homeowners
About half of our clients live in Vero Beach year-round. The other half live in Vero Beach only parts of the year.  Some plan to retire in their Vero Beach home. And others view their Vero Beach home as one of the many places they like to live, and as an investment.
What each needs from their home, their lifestyle, and tastes is unique to them.  But they all want to work with a company that can deliver what they are looking for and won't design a home based on someone else's sense of what a home should be.
All Stages of Life
Most of our clients are couples. They are successful and typically 35 years of age or older. Some have children living with them, some not. A good portion of our clients are in the 55-80 year age range.  Some are retired, some are not.  A few have their older parents or grown children members living with them. Most like to have house guests from time to time and many like to entertain.  They all want homes that they are proud of, that let them live the way they want to, and that reflect well upon them.