Luxury Kitchen Design and Remodeling
Stunning, Functional, High Performance, Luxury Kitchens in Vero Beach
The kitchen design and kitchen remodeling we offer in Vero Beach is all about creating beautiful, high performance, luxury kitchens that offer great conveniences.
Most of our kitchen remodels are integrated into the main gathering place of the home. This makes how the kitchens look and function that much more important. These kitchens are often a primary hub of activity and focus in the homes. Kitchens we design typically feature a full array of top-of-the-line appliances, stone or quartz counters, and custom kitchen cabinets.
Before designing your kitchen, we find out how you plan to use it, your priorities, preferences, taste and ideas. Is there one person in your home who cooks, several, several at once, etc.? Are there any special adaptations needed for someone in your home? In this way your kitchen's design will fit your needs the best.
Different Kitchen Designs for Different Types of Kitchens
We design kitchens around the way you want use it because that's the only way to create the a kitchen that is perfect for you. Working with information we learn from you, we will determine the optimum size, layout, appliances, prep space, traffic patterns, food storage, etc. for your new kitchen. We will design the look, style, and features around your personal sense of style, tastes, and priorities. Another secret in creating the perfect kitchen for you is that we pay careful attention to how your new kitchen integrates into the rest of your house.
Upscale Kitchens for Entertaining
If you like to entertain large groups of friends or family, we can help. We can design a larger kitchen with high performance, larger capacity appliances like ranges, grills, ovens, refrigerators, and freezers. Some kitchens we design have butler pantries and warming ovens. Some of the kitchens we create are designed with an eye towards how a caterer or personal chef would use your kitchen as well as how you use it every day. If you prefer entertaining small, intimate groups of people, we can design a kitchen that is scaled for that type of entertainment as well.
Family Kitchens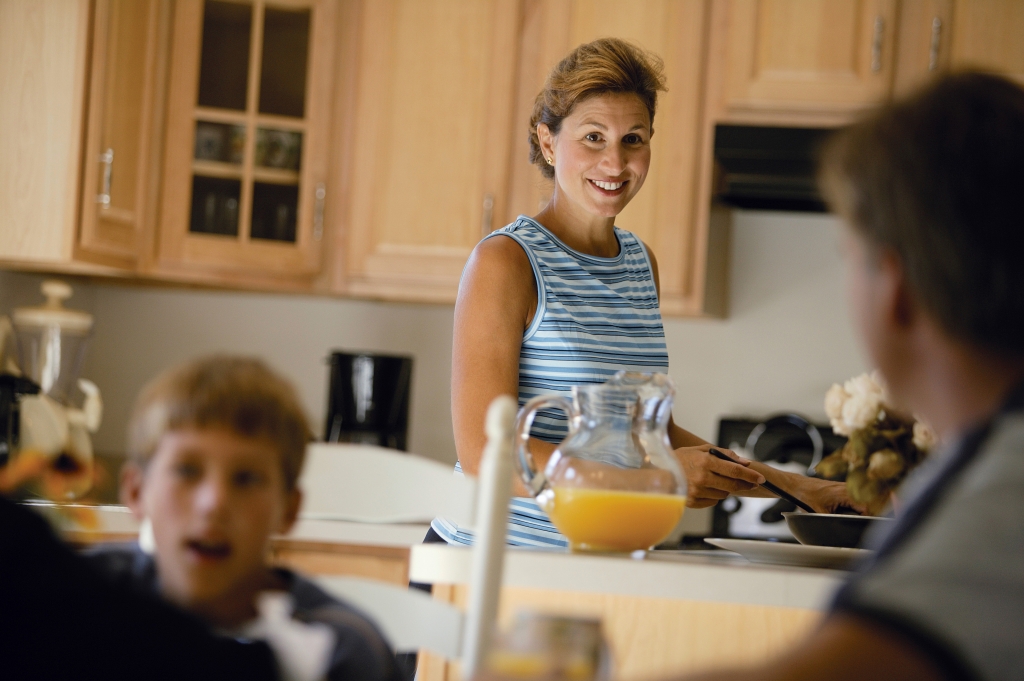 Don't do a lot of entertaining? More concerned about how your kitchen will work for you and your family on a day-to-day basis? We can design a kitchen that is perfect for you as well.
For example, if you have younger children in your home, we consider the placement of controls for ranges and ovens.  If you have relatives visiting regularly and need to prepare meals for a large group, we can design and remodel you kitchen with capacity for more people in your kitchen area during meal preparation so you can prepare meals and enjoy their company at the same time.
Small Kitchens for Staff, In-law and Guest Suites
If you have staff living in your home, an in-law suite, guest suite or guest quarters in your home, you may wish those areas to have small kitchens. Perhaps a small or mini fridge, microwave, small stove top, area for a coffee pot, sink and cabinets. Or you may want a small but full-function kitchen.
Mini and Specialty Kitchens
For entertainment rooms, game rooms, wet bar, etc. we design, remodel and build the kitchen-like aspects of these rooms as carefully and with as much thought as we do your main kitchen. These specialty kitchens may have sinks, dishwashers, cabinets, refrigerators, wine coolers, etc.
Outdoor Kitchens
From grilling areas to full outdoor kitchens, there is no better area in the country for you to enjoy cooking and entertaining outside. Outdoor kitchens require specialized skill sets to design and build. And we have the skills and experience to build an outdoor kitchen you will love and that will amaze your guests.
Special Kitchen Adaptations
If someone living in your home now, or may to in the future, needs the kitchen to be easier and safer to use because they are young, have a current physical limitation or because of expected normal changes in flexibility, mobility and strength as people mature, we can plan for these in your kitchens design.
Typical modifications include easy-to-use drawer pulls, cabinet handles, and levers on faucets. Changes in counter heights or having multiple counter heights are useful. Pull-out drawers instead of shelves in lower cabinets, lowering or raising the location of microwaves, ovens and dishwashers are handy. Assuring enough easy-to-reach storage for the things you need to get to regularly are all part of making a great-looking kitchen a perfect kitchen design for you. Sinks and stove tops with space below for your knees and lower light switches are good if you use a wheelchair.
For kitchens where younger children live, attention to where controls are for stoves and range tops, places for step stools, electrical outlet covers or placement, childproof cabinet doors and drawers are often called for.
Save
All Our Kitchens Also Get Dunlap's
On-Time, On-Budget Guarantee
Working with Dunlap, you are assured of getting your project done when promised with our unique on-time, on-budget guarantee.
Exclusive Extended Limited Warranty
At Dunlap Construction, we are so confident in the quality of our work that we can offer you an exclusive extended limited warranty that is among the best in the industry. Kitchen appliances and products are covered exclusively by the manufacturer's warranty. Typically an extended manufacturer warranty is available.