Client Reviews and Ratings
We work hard to make sure all our clients are satisfied with every aspect of the work we do for them. We also strive to provide the best remodeling or custom home building experience. To assure we are meeting the highest standards, we retain GuildQuality, the leading homeowner satisfaction survey firm for the home building and remodeling industries.
Below are our current ratings and comments from our clients.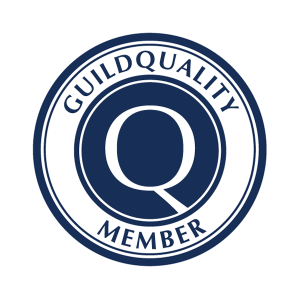 ---
"Dear Bob,

I am writing this letter to let you know what a wonderful experience we have had while renovating our new home at … Drive in John's Island with Mr. Drew Dunlap of Dunlap Construction! Drew has done a fantastic job, in every aspect, while completing what we are calling "phase 1" of our project, and we are very excited about continuing on to "phase 2" very soon!…

…To share some of our thoughts on Drew and his personal qualities and his professional abilities, …. We first met Drew, through a mutual friend, when we were purchasing our second home in John's Island in the spring of 2008. The home at …. Drive needed quite a bit of updating and we were anxious to get started due to the restrictions on construction work during the high season in J.I.. We spent a week meeting with architects and contractors, and without a moment of doubt, Drew was by far the best candidate for the job! Immediately, Drew was punctual for all of our meetings, he offered many ideas for the project that had not come to mind for us, he could appreciate our efforts to keep the cost of the project down, and he knew that we had a strict time line for him to abide by. When we received our bids from all of the construction companies that we interviewed … [and] Drew's bid was substantially lower than the others for the same or better quality finished product!

We were able to start as soon as he obtained the needed permits which saved us time in the end. Since we were not on site for the duration of the project and were more than a thousand miles away, Drew made us aware of each step of the project not only with phone calls, but with e-mails and photos which put us at ease! Drew was more than accommodating when we changed our selections and had to make adjustments due to the unexpected "bumps in the road" that come with renovation work, which was very helpful. Throughout the project, Drew maintained constant communication with us, met all timelines, passed all required inspections, kept the project very close to the initial bid, and provided us with a top quality finished product that met and exceeded our expectations!"

John L. English
---
"Thank you for the great renovation of my apartment at …. You held to your proposal, you were easy to work with, and you completed the work on time! I congratulate you on a job well done."

Peggy Lyons
---
"Dear Bob,

Just a note to thank you …. for recommending Drew Dunlap to us for the additions we made to our new unit in the Island House. He and his people did a fine job in making the changes we wanted, and was also very creative in suggesting ways to solve a few of the small problems we encountered. I would be happy to serve as a reference for Drew is any of your clients want to know more about the man and his work…."

Chandler H. Everett
---
"Drew,

Hope all is going well for you, your family and the business. We still love your work and are thrilled each time we enter our home…."

Paul Johnson
---
"Dear Cliff,

Thank you for recommending Drew for the renovation of our Master Bedroom Addition. We had a great experience with this construction project. We contracted …. Dunlap Construction, in late 2007 and during the winter, we worked together on pre-construction planning and design clarifications in preparation for construction during the spring and summer. Drew did a great job of keeping us informed of the progress while we were away and was diligent in getting our selections in a timely manner.

We found that the work was completed with excellent workmanship including the work completed by the subcontractors. There were very few punch list items and all items were successfully completed by October so we were able to enjoy it during the holidays. The experience in working with Drew's company has been a pleasant one and we would recommend his company for residential construction projects."

John B. Burke
---
"To Whom It May Concern:

As a board member of John's Island Property Owner's Association (JIPOA), I am pleased to write this letter to tell you what a pleasure it is to work with Drew and his company on various renovation projects completed in John's Island.

Drew has an open door policy on each project, welcoming and encouraging reviews of the work. He is proactive in clarifying rules and regulations specific to individual homeowner's associations and effectively communicates with homeowners and association board members.

Drew understands the importance of keeping a clean jobsite and helps neighbors and other interested parties understand the progression and impact of the work as the project  develops.

I would recommend him to anyone considering a renovation project in John's Island."

Catherine Carpenter
---
"Dear Mr. Howle,

Thank you for suggesting Drew for our kitchen renovation project in John's Island as selecting … Dunlap Construction to complete our project has been one of the best decisions.

Drew has worked closely with us in establishing realistic budgets and schedules and was supportive in the decision making process. His professionalism made us feel that he was protecting our best interest and would be able to provide long-term care of our home.

We especially love our Brazilian Cherry Island and desk that was made to match".

Anne E. Sullivan
---
"Dear Bob,

Drew Dunlap…asked if I would write a referral letter to you about his capabilities and the quality of his services to customers.

Bob, it is a pleasure to recommend Drew. As you know Janet and I have been serial renovators since buying this house in 2002 and have found Drew to be the perfect contractor for us.  He is knowledgeable, service oriented, his word is his bond and his workmanship is superior.  His company has completed a number of projects for us including a new family room, new windows throughout, new master bathroom with his and hers dressing rooms and is in the process of renovating bathrooms on the second floor. Throughout these projects Janet and I have lived in the house and all areas including the work areas have been clean and very livable. Trust to me is very important and we have never been concerned with Drew or his people having the run of our house.

I strongly recommend Drew as a builder construction innovator and as a person."

Don Tribus
---
"Drew,

Thanks for a great project.  I appreciate all the work to get the color right. It's virtually impossible to see a difference now."

Stephanie Hahn