Dunlap's Design Build Approach
The Dunlap Design Build Process is Convenient and "Client-Centric"
We strive to provide our clients outstanding design build custom home and home remodeling experiences. We do this in part with our special Client-Centric "Dunlap Design Build" (DDB) approach.
With this approach, we design and create homes that meet and more often exceed our clients' expectations. Their expectations for design, quality of construction and for a smooth project process.
Dunlap's Design Build approach brings all the benefits and convenience of the Design Build method plus the extra benefits of our approach being Client-Centric to its core.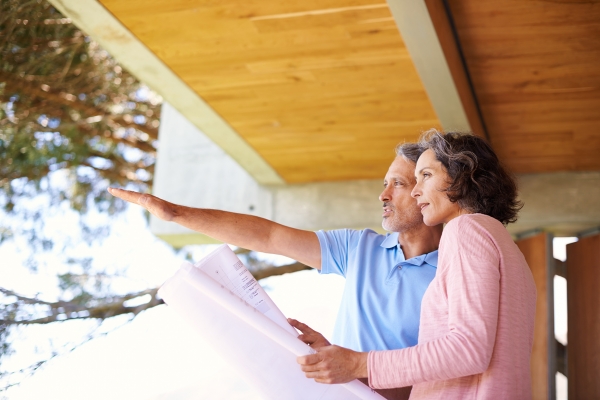 What Makes Dunlap's Design Build Approach "Client-Centric"?
Every part of our Dunlap Design Build process is designed to create your project, the way you want it and to make working with us as easy and convenient as possible. 
Click each step to learn more.
We start by carefully listening to what you say and what you are looking for from your home. We learn your sense of style and tastes. We ask about your priorities. We find out how you wish to use your home. How you like to live: do you entertain, have house guests, they like to cook, and so on. We listen to any specific ideas you have. And we ask any appropriate question so we get a complete picture of what it will take to create the best solution for your home.
As design and construction professionals, we bring ideas and creative solutions to the table. We use this to help amplify and support your objectives. To point out options you may not have thought of. When you want our ideas about matters of style, taste, or trends, for example, we gladly give you our thoughts and suggestions. But we never impose our ideas on you.
We don't force our sense of style, this week's design trends, or how we think your home should be. We always keep in mind that we are building your home. We have no agenda other than designing and building a home that will be perfect for you. A home that provides you good value for your investment. We measure success by your satisfaction with our process, results, and your overall experience working with us.
You and your project benefit from the fact our design and construction teams work together. Problem-solving and creative solutions can span both the design and construction aspects of your project.
We are often able to anticipate future needs that you may not be thinking of at the time we talk. Ideas such as designing a home with features that make living in the home easier and safer as you get older or have older house guests. If you will have children living in your home or who might visit, there are ideas that can help make your home safer for them. We also help minimize the amount of maintenance your home will need by using materials that better withstand the sun, sand, salt, and weather we have in Vero Beach.
Construction represents the bulk of the cost of almost all projects. Quality construction means your home will last longer and require less maintenance.
Design impacts the look, function, and overall livability of your home. Unlike some design build firms, we don't look at design merely as a way of selling construction services. Our custom home and home remodeling design services deliver outstanding results. Beautiful home design, often at a lower cost and less risk than the two-step (design then bid) approach.
We listen and discuss the level of investment you feel is appropriate for your home. Our client-centric Dunlap Design Build approach includes us designing to your budget. Our thorough understanding of construction costs allows us to let you know early in the design process if something you envision can be constructed within your target budget. And if not, what additional costs would likely be. This type of feedback from early in the design process keeps your design costs lower, because time is not spent on ideas that will cost more than you want to invest. It also saves having to redesign project elements that, well into the process, are found not to fit your desired investment.
Our clients can generally afford to pay for the home they desire. They are not generally limited by an absolute budget ceiling. But no one likes to be coerced into spending more than they want just because they used a design-bid process for which "cost uncertainty" is an unfortunate part of the process. The Dunlap Design Build process provides a great deal more cost certainty than design-bid.
Our Dunlap Design Build approach also saves you time and hassles. You don't have to waste time selecting one company to design your home and another to build or remodel it. You don't have to waste time making sure communications among you and the two companies you select, and between the two companies themselves, is good.
With the Dunlap Design Build approach you only deal with one company, Dunlap. Our construction team provides feedback to our design staff from the start. Our design staff is then involved with the construction. This makes sure that what you want and approved is what you get. And our process does this extremely cost efficiently. This saves you money and avoids mistakes, because each team feeds the other information that will make the project more successful and often less costly.
You save time and money because there is no "transfer of information from one company to another" and no lost information. With design-bid, information is often lost. Even small bits of information the homeowner communicates to the architect but don't get conveyed to the builder in the construction documents can be important. If not passed on, this information can lead to the project not being all it could be.
Part of the way our Dunlap Design Build approach provides you a more perfect solution is that you only have to deal with one company. And as that company, we are accountable for every aspect of the project. If something is not right, we are responsible. You never have to be in the middle between your architect and your builder over who caused the problem or who made the mistake. In those cases, it is always the homeowner who ends up paying to fix the problem.
Most builders will tell you that architects' bid packages are typically not as detailed and complete as they could be. Some specs are not defined clearly, if at all. So builders then have to fill in the blanks. Builders get to select the brand or quality of lumber used, for example.
As the homeowner, you will rarely know why one bid was lower than the other. Even if you did know the technical differences, you may not appreciate the implications of these differences.
When we design a project for you, we design it knowing what materials and production approaches will be best for what you are looking for, your needs, and your budget. Because of the extended warranty we offer, we make sure what we design and specify will serve you best. We don't want to have to fix something later because we cut corners up front. Architects know materials and how to spec them, but when we design your home we know how materials work in the field and spec the ones best suited for your objectives.